A Warm Welcome
On Friday 13th 2014 Killybegs welcomed the majestic MS Saga Sapphire cruise ship to Killybegs Harbour. As a deep sea port, Killybegs is one of just a few ports in Ireland that can cater for large cruise ships and is a 'Centre of Excellence for Cruise Tourism'. Due to it's position, at the tip of a deep fjord-like inlet, Killybegs Harbour is also one of the safest, most sheltered, deep-water harbours on the Irish coast ideal for visiting cruise ships, passengers and crew. The MS Saga Sapphire was welcomed into port by representatives from Killybegs Information Centre who provided passengers and crew with lots of information about the wonderful activities and attractions in and around the Killybegs area much to the delight of the cruise visitors.
Naming the Ship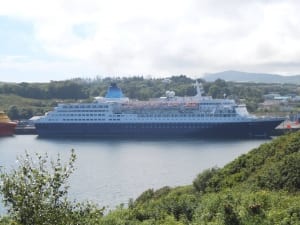 MS Saga Sapphire is a cruise ship owned and operated by the cruise line, Saga Cruises II Ltd. The ship was built in 1981 for a German company called Hapag-Lloyd Cruises and name MS Europa at that time. It was then sold to Star Cruises in 1999 and the name changed to MS SuperStar Europe. For a time she was bought by Pullmantur Cruises and again the name changed to MS Holiday Dream. The ship also became known as Bleu de France under the ownership of CDF Croisieres de France in 2008, she finally received her current name MS Saga Sapphire when she was transferred to Saga Cruises in 2011. A series of refits and refurbishments added new cabins and balconies, updated interior decor, overhauled machinery, and repaired and repainted the hull. A key feature in the boat's construction keeps cabins in the front, farthest away from engine noise, and ceilings higher than standard heights. Details like soundproofed walls, a domed pool, and illuminated closets improve the ship's more recently inconsistent standing as a seaworthy vessel.
Hidden Gems Tour
One of the highlights of the recent visit to Killybegs is the Hidden Gems Tour which is organised by Killybegs Information Centre. Anne Dorrian from Killybegs Information Centre took a group of passengers from the MS Saga Sapphire to Sliabh Liag along the Wild Atlantic Way coastline. Passengers were delighted to have the opportunity to visit the highest sea cliffs in Europe and with expert knowledge on the local area from their experienced guide, they also learned about the history, heritage and culture of the local area. Although the day was slightly overcast, the passengers were still in awe of the majestic cliffs. During the Hidden Gems Tour, they also visited Studio Donegal which was a real treat for the group as they were able to see a real Donegal weaver busy at work producing some of the finest Irish tweeds in Donegal.
Traditional Craft Fair
A Traditional Craft Fair was held in the Bay View Hotel Killybegs to introduce passengers to a selection of wonderful local crafts. The Bay View Hotel kindly provided the room with compliments to help encourage cruise tourism in Killybegs. With Samantha's beautiful glass designs on wine/whiskey bottles, Naomi's beautiful hand made cards, jewellery and boxes, Bridge's excellent hand knit cardigans and scarfs and Pat's hand crafted wooden pens, the passengers could see the passion and skill involved in crafting such a wide range of items by local people. Helga was there to display her floral designs in pictures and cards, which proved very popular.  Patty's paintings of scenes of Donegal provided a glimpse of our stunning county. Anne was also there to display her paintings of Donegal farm animals. The Craft Fair was held in the dining room at the Bay View Hotel which provided visitors from England, Scotland and Wales with panoramic views of Killybegs Harbour. The Craft Fair was a wonderful display of local skills that was very much enjoyed and appreciated by passengers of the MS Saga Sapphire.
Saying Goodbye
After a day in Killybegs Harbour it was time for the passengers and crew to bid farewell to the kind and hospitable locals in Killybegs that evening. They had only one complaint in that their visit to Killybegs was not long enough and they would like to see more of County Donegal. Passengers were delighted with the warm welcomes they received and said that the town was lovely and clean with friendly people who were pleased to help make their visit very enjoyable. The passengers of the MS Saga Sapphire will not forget their special visit to Killybegs and many expressed a keen desire to return to the picturesque fishing village for a longer holiday in the future.