MS Saga Ruby docks in Killybegs
Among the passengers on the cruise ship, MS Saga Ruby when it docked in Killybegs on Friday 15th September was Anne McGuinness from Girvan Scotland.
Anne is a granddaughter of Alex Noble who founded the boatbuilding company Nobles of Girvan, where some of the most beautiful fishing boats ever built were launched.
Anne had come to seek out information on her grandfather who was employed as foreman in Killybegs Boatyard in the 1930s, Geraldine in the Tourist Office put her on the right track at once, by pointing her in the direction of Stoneybatter where her family had lived from 1933 to 1937.
She was then taken in hand by Anne Brosnan who showed her all around, not only Stoneybatter but other places in the locality which she had heard of from her grandad. Anne also introduced her to local historian Pat Conaghan, whose book on the history of the Boatyard sets out the coming of Alex Noble and his family to Killybegs in 1933.
Anne McGuinness related to Pat some family stories of their memories of Killybegs. She explained that there is still a phrase that is used in their family "I  wish the District Nurse from Killybegs were here" when someone was ill. This refers to how nurse Mary Conaghan, Pat's mother, nursed back to health the Noble children, including Anne's father Peter, when they contracted Scarlet Fever.
Anne Brosnan's father Constantine Murrin was a visitor to Noble's Boatyard in Girvan while he owned the fishing vessel, Moravia. so the the Killybegs-Girvan-Noble connection was fully discussed. On her departure, Pat Conaghan presented  Anne McGuinness  with a copy of his book. Anne told staff in the Tourist Office that everyone on board the Saga Ruby was looking forward to going to St Kilda's but she was only looking forward to her visit to Killybegs, and thankfully she had a good time and was happy going back on board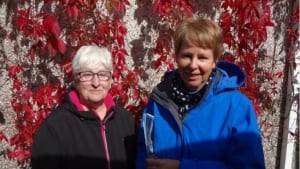 Pictured are Anne Brosnan(left) and Anne McGuinness