Project Description
Atlantic Coastal Cruises is a new venture, locally owned and a family-run business set up in 2019.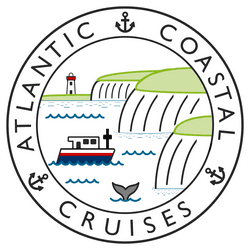 The beautiful coastal town of Killybegs has been predominantly a commercial fishing town but with the rise in popularity of the Wild Atlantic Way, the influx of passing tourists has been noticed and this led to an offering of this maritime experience.
SLIABH LIAG CLIFFS TOUR
En route to the cliffs we will view Fintra beach with its Blue Flag credentials, that then leads us onto Muckross Head. After Muckross Head we pass by Teelin Bay & onto Carrigan Head. Rounding Carrigan head with Napoleonic tower overhead looking down on us, the majestic Sliabh Liag cliffs start to come into view. As we travel around we can see the "Giants Desk & Chair" & this is leading us to the highest point of the cliffs which stand at 1,972ft/601Mtrs, making them the highest accessible sea cliffs in Europe.
KILLYBEGS HARBOUR TOUR
Hourly departures on weather days and cruise ship days
The vessel will perform informative & visual tours of Killybegs harbour, Ireland's largest fishing port with some of the world's most modern & high tech Pelagic fishing vessels. Also, on occasion luxury cruise liners visit the port & this will enable the public to get a up close experience of these truly magnificent vessels.
Contact us on 087 221 4497
or Email cruises@atlanticcoastalcruises.com